The Harare Institute of Technology has been accredited as a professional and student chapter of the Association of Computing Machinery (ACM) to become the third chapter in Sub Saharan Africa. The Association for Computing Machinery is an international learned society for computing which was founded in 1947 and is the world's largest scientific and educational computing society.
If there is cause for celebration in Zimbabwe's tertiary education sector, then definitely it has to be HIT's success stories where the institute is not looking back but rather continues to redefine the technological aspects of industrialization through impacting cutting edge technology in the lives of upcoming scholars.  
By Cisco Eng. Shingie Lev Muringi 
ACM's Chief Operating Officer officially chartered the Harare Association of Computing Machinery Special Interest Group on Security, Audit and Control (SIGSAC) Chapter and the Harare Institute of Technology Student Chapter on June 06, 2016 joining the growing network of ACM Chapters worldwide.
The Association of Computing Machinery Special Interest Groups on Security, Audit and Control's (SIGSAC) aims to develop the information security profession by sponsoring high quality research conferences and workshops representing major areas of computing to address the interests of technical communities that drive innovation. SIGs offer a wealth of conferences, publications and activities focused on specific computing sub-disciplines. They enable members to share expertise, discovery and best practices.
Every ACM chapter offers members a wealth of benefits, including access to critical research and the opportunity to establish a personal networking system in the region.
ACM's Special Interest Group (SIG) chapters around the world host lectures by internationally known computer professionals. They also sponsor state of the art seminars on the most pressing issues in information technology, conduct volunteer training workshops, and publish their own newsletters.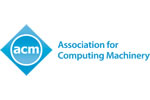 In an effort to enhance Learning and Career Development ACM has established more than 680 student chapters throughout the world that give students opportunities to play active roles in the association and its activities. By organizing technical talks, workshops, field trips and programming contests, ACM Student Chapters facilitate communication and collaboration within a university's computer science community and with the computing community at large. Through its sponsorship of student chapters, ACM also enhances learning via the exchange of ideas among students, and between students and established professionals.
Student chapter members can also take advantage of ACM activities and services. Opportunities include the Distinguished Speakers Programme, the International Collegiate Programming Contest, and the Student Research Competition. Student chapters provide a natural setting to develop and demonstrate the leadership capabilities critical to students' career development. They also help students get involved in the business world with workshops, resume assistance, and career building initiatives.
Commenting on this latest development HIT'S Dean of the School of Information Scinces and Technology Dr. T. Padenga said ACM's Professional and Student chapters worldwide serve as hubs of activity for ACM members and the computing community at large. "Our academic staff and students are going to benefit from the seminars, lectures, learning forums and networking opportunities with peers and experts across the computing spectrum. Participation in all these chapters will provide a unique combination of social interaction and professional dialogue for both academic staff and students as the ACM Chapter members reflect all facets of computing from academia, research, business, and industry", he said
ACM and its Special Interest Groups Host More Than 170 Events Worldwide. Their conferences, workshops and symposia unite innovators to push computing technology forward and to continue the legacy that unites like-minded thinkers and makers. It also recognizes excellence through its eminent awards for technical and professional achievements and contributions in computer science and information technology. It also names as Fellows and Distinguished Members those members who, in addition to professional accomplishments, have made significant contributions to ACM's mission.
ACM's educational activities, conducted primarily through the Education Board and Council, range from the K-12 space (CSTA) and two-year programs to undergraduate, graduate, and doctoral-level education, and professional development for computing practitioners at every stage of their career.
ACM provides independent, nonpartisan, and technology-neutral research and resources to policy leaders, stakeholders, and the public about public policy issues, drawn from the deep technical expertise of the computing community. It also encourages its members to take a direct hand in shaping the future of the association. This philosophy permeates every level of ACM, reaching to the top echelons of leadership where members fill vital positions on the councils, boards and committees that govern the organization and raise the visibility of ACM worldwide.
In its broader policy of internationalisation, HIT staff members joined the Association of Computing Machinery (ACM) and Institute of Electrical and Electronic Engineers (IEEE). These associations provide some of the benchmarks HIT uses in developing curriculum which have earned HIT international recognition and awards.
The Association of Computing Machinery, (ACM) is a US-based body founded in 1947. ACM is widely recognized as the premier membership organization for computing professionals, delivering resources that advance computing as a science and a profession; enabling professional development; and promoting policies and research that benefit society.
ACM hosts the computing industry's leading Digital Library, and serves its global members and the computing profession with journals and magazines, conferences, workshops, electronic forums, and learning centre.
In addition to student and regular members, ACM has several advanced membership grades to recognize those with multiple years of membership and "demonstrated performance that sets them apart from their peers".
The battle for relevance continues…follow Shingie Levison Muringi our Technology Research Specialist and Sub Editor on Twitter @ShingieMuringi1, Email [email protected] or direct Cell: 0775 380 652 for all the latest trending technological issues in and outside Zimbabwe.